Varsity Driving Academy is proud to service the city of Irvine and Orange County. As the top rated Irvine Driving School, we strive for excellence in driver's education training offering the best behind the wheel training in Irvine so teen and adult drivers learn to drive safely.  Our Irvine Driving School has the safest instructors and thorough safety protocols in place to keep drivers and students safe.  We offer online drivers education and behind the wheel training so you can pass your Irvine DMV behind the wheel test the first time!
Welcome to Varsity Driving Academy Irvine Driving School!
In Irvine we offer free pick-up and drop-off for behind the wheel training sessions. Let your parents take the day off and get ready for their taxi driving retirement. We'll pick you up for your appointment and drop you off after.
Services
Online Learning
Online learning is one of the easiest ways to make your own schedule. Some students have busy lifestyles and that's why we offer online courses. We cover the same curriculum online as e do in a classroom. We even spend the same amount of time, the mandatory 30-hours as set by the DMV.
Classroom Learning
Some of our students would prefer a setting they are more accustomed to, so we also offer in class learning. We offer three summer sessions for you to choose from but they fill up fast. If classroom learning is what you need, we suggest you sign-up as early as possible to secure a spot. At the end of both the online courses, and in class sessions it's time to get your permit. Once your permit is received, we can move onto the driving.
Behind-The-Wheel Training
First, you must take your initial 2-hour driving lesson with a certified instructor in order to make your permit valid in the state of California. We offer a number of packages for behind-the-wheel training. Check the links below for more info on our packages.
DMV Package
Our students will get the concierge like service in the DMV package. Not only will we schedule your DMV test, but we will pick you up, take you to the test and even let you use our car for the test. We think this is a big advantage since you've been practicing in our car for months. If you have any further questions, contact us and get the answers you need (949)-387-4400.
Varsity Driving Academy Graduate Spotlight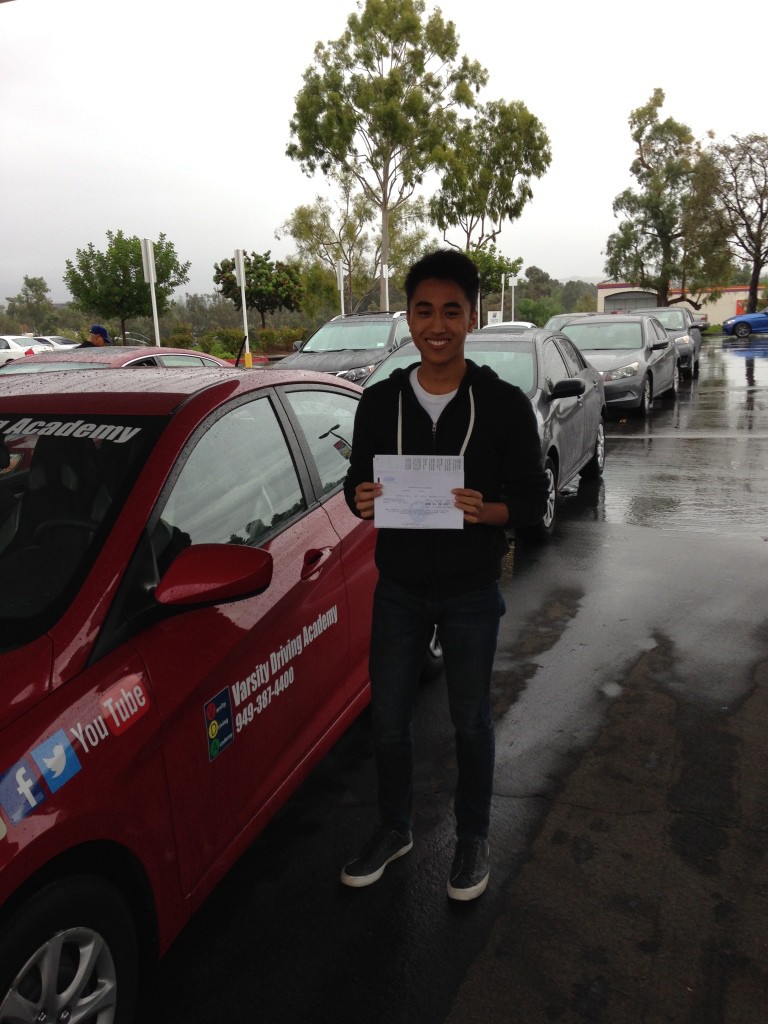 Lawrence L. attends Orange Coast College passed his behind the wheel test at Laguna Hills DMV. Great job Lawrence
Helpful Links