Do you want to get your license and learn how to drive safely in the United States? Prepare for your road test by signing up for Varsity Driving Academy's International Student Drivers Training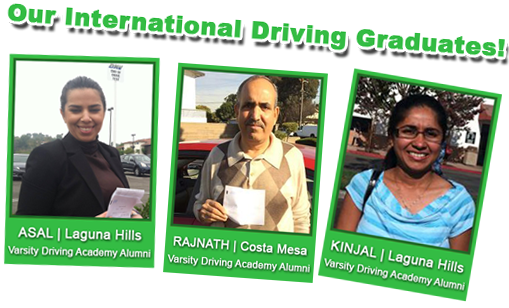 Our professional, friendly and patient instructors are extensively trained and DMV certified to teach you everything you need to know about driving here in the United States, especially in California. As an international student, you should have the freedom to explore. We can help you get comfortable with CA driving laws, cars, roads and freeways. All it takes is 10 hours of training to be adequately prepared to pass your driver's test and get your license. After completing our class, you will have confidence, command, and control when behind the wheel.
Our Training Vehicles are Favored by International Student Drivers
Fully equipped with dual brake controls
Fully insured and inspected
Free Pickup and Drop off
No hidden or surprise charges. Everything is included in the package price.
We Emphasize What is Most Important
Speed Management
Space Management
Vehicle Handling
Hazard Recognition
We Make Driving Easy to Understand
We'll show you detailed illustrations and guides
We'll perform demonstrations to bring concepts to life
We'll allow multiple practice driving tests
Set Yourself up for Success by Purchasing our DMV Test Package
Ensure that your DMV test goes as smoothly as possible by using the same vehicle you used for International Student Driver's Training. You will have confidence the day of the test, knowing you will be comfortable on the road in an insured and registered vehicle you've already driven. We will even schedule your appointment for you! Not to mention all the other perks you will get:
Pick up and drop off before and after the DMV exam
Professional coaching before exam
Strategies and tactics to pass your behind the wheel exam on your first attempt
Orientation and familiarization with the expectations of your DMV examiner