Frequently Asked Questions

Varsity Driving Academy COVID-19 Protocols
Varsity Driving Academy COVID-19 Protocols (Downloadable PDF Version)
Any employee/driving instructor has been told to stay home if they are feeling sick in anyway.
Each driving instructor has been educated to avoid touching eyes, nose and mouth and to wash their hands as much as possible.
All driving instructors will wear a mask while instructing students until further notice.
All students must wear a facemask while in our vehicle and on a driving lesson.
All vehicles are supplied with disposable gloves, disinfecting wipes and disinfecting spray.  Each instructor will be wiping/disinfecting the vehicle between lessons.
All vehicles have a barrier between the driver and passenger seat for added protection and safety during behind the wheel lessons.
All instructors are told to practice social distancing as much as possible including conversations with parents before and after lessons.
Varsity will take the temperature of every employee/instructor each day they work to confirm that do not have a temperature of over 100.4 which would indicate a fever.
All customers must review and accept the COVID-19 Liability Waiver.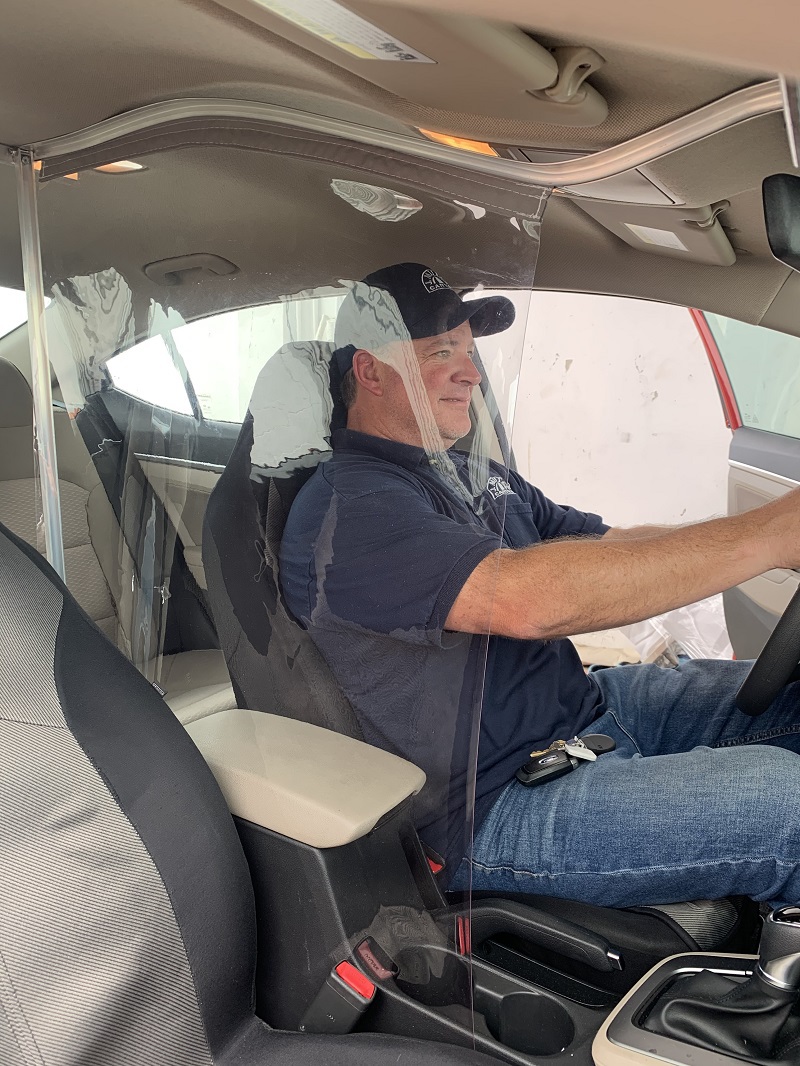 Are you licensed by the California Department of Motor Vehicles?
Yes. Our license number is E4630. You can see our certification on the DMV visiting by
clicking here
.
Who needs a permit to take behind the wheel lessons?
Everyone. Children and adults, regardless of age, need a permit to take lessons. 
How long in advance do I need to call to make a behind the wheel appointment?
It all depends on the time of year but a safe bet is to give us three to four weeks in advance. This time frame will allow you to pretty much pick your date and time. Our busiest time slots are after school (3pm and after) during the week and all day Saturday and Sunday. During Holidays such as Christmas and Spring break we are the busiest and it is recommended to call as early as possible to schedule during these busy times. The busiest time of year is the Summer. Schedule early!
Do you ever have two or more students in the vehicle at the same time like some other schools?
No. All lessons are private one on one lessons. There will never be a time when there are two students in the vehicle.
Do the instructor and student take any breaks during a two hour session?
It is possible during a two hour session that the instructor will take a 5-10 minute break. This allows the student to stretch his/her legs and go to the restroom if needed.
How old are your vehicles?
All of our vehicles are new.  We train in 2013 and newer four door Hyundai Elantra & Accents.  Click here to check out the vehicles and the safety of these vehicles.
What if I lose or misplace my permit? Can I still take my behind-the-wheel lesson with VDA?
Yes. We are one of the few school who can issue a student license. This allows a student to drive only with our instructor. This student license costs $10.00.
Do you charge a cancellation fee?
Yes. If you need to cancel a scheduled appointment within 24 hours of its scheduled date and time we charge $45.00 fee.
How can I arrange for behind-the-wheel driver's instruction?
The easiest way to arrange for behind-the-wheel driver's instruction is to register online through out website.
Click here
to visit our online registration page. Payment can be made online as well using any major credit card.
Can I take the required 6 hours of driving lessons in my parent's car?
No. All driving tests need to be taken in a Varsity Driving Academy vehicle.
Do I have to sign-up for driver's education classes before I take behind-the-wheel instruction?
No. As long as you have a valid California learner's permit you may schedule a driving lesson. Give us a call at 949-387-4400 or
register online
for our behind-the-wheel instruction.
What is your recommendation with length between lessons?
At Varsity Driving Academy, you can enjoy learning how to drive at your own pace with our friendly behind-the-wheel instructors. Each lesson is two (2) hours long. Our recommendation is to spread the driving lessons out over the mandatory waiting time of six (6) months. The first lesson needs to be scheduled and completed as soon as possible to validate the permit. The second lesson would be in the middle of the six month waiting period (about 2 1/2 – 3 months) and the last lesson would be schedule as close to the date that has been scheduled for the behind-the-wheel drive test at the DMV.
Each lesson is strategically scheduled so the instructor can teach new criteria every time you come for a lesson and reinforce habits that create safe and defensive drivers. Scheduling the lessons this way also creates a team effort between parents and our instructors who have all been extensively trained and are DMV certified. The practice that is done by the student (and highly recommended) between our three lessons is crucial to the success of the student.
We do pick up and drop off from your school, work, or home. Varsity Driving Academy will never have hidden or surprise charges. Everything is included in the package price.
What are your requirements for hiring instructors?
Each instructor has to go through a rigorous program to become licensed. All instructors are DMV certified and required to take a 60 hour course. They must also pass a federal background check using Livescan fingerprints, a health check, and must not have any derogatory items on a secondary background check completed by Varsity Driving Academy. Finally, all instructors at VDA must pass a detailed interview process with the owner, Mark McKinney. We take hiring our instructors extremely serious as this is a very important part of our business and ensure each one of them teaches in a positive and patient manner.
Once I complete the online drivers education course do I need to do anything else to prepare for the DMV written test to obtain my permit?
Yes! You must read and study the California Drivers Handbook.
Do I need a certificate to take to the DMV for the written test? What about the behind the wheel test?
You can read more about this on our website HERE, but the answer is YES to both. You will need an original "pink certificate" before taking the written test and you will need an original "gold" certificate to be able to take the the behind the wheel test. Our office issues both of these and since they are original can not be emailed.