Varsity Driving Academy is proud to be the best Laguna Niguel driving school. We are a staff of fully certified and experienced instructors waiting to teach you to drive. Our goal is provide an individual service, with safety and defensive driving at our core.
Welcome to Varsity Driving Academy Laguna Niguel!
In Laguna Niguel we offer free pick-up and drop-off for behind the wheel training sessions. This service can be added in more ways than one. Check below to find out how we can let you use our car for the final test.
Services
Online School
With our Online Course, you'll learn all the valuable information you need to pass the DMV written exam and get your learner's permit. It's 30 hours of interactive, informative content. The best part? You can work at your own pace, wherever and whenever you like!
Classroom Learning
Classroom instruction is available for our students who prefer the setting. We have three summer sessions, but they fill up fast. We ask that you sign up early so we may save you a seat.
Behind-The-Wheel Training
In order for your permit to be valid, the DMV requires you to complete your first 2 hours of behind-the-wheel training with a DMV-certified instructor. The instructor will then validate your permit, and you can begin your 50 hours of driving time (10 of those hours at night) with a licensed adult over 25! Don't have an adult to drive with? No problem! We offer packages from the 6 hours required with a certified instructor, all the way up to the full 50 hours.
DMV Package
The DMV Package is optional, but it's a great way that we continue to provide support and assistance to our students. After you've completed your driving hours and behind-the-wheel training, you're ready to take the final DMV road test. This is an exciting but also nerve wracking time for a new driver. Don't worry, we won't leave you in the dust! Sign up for our DMV Package and we'll make your driving test appointment for you, pick you up and take you an hour early, providing support and encouragement to you, and let you use our car for your driving test! Contact us today to get started (949)-387-4400
Varsity Driving Academy Graduate Spotlight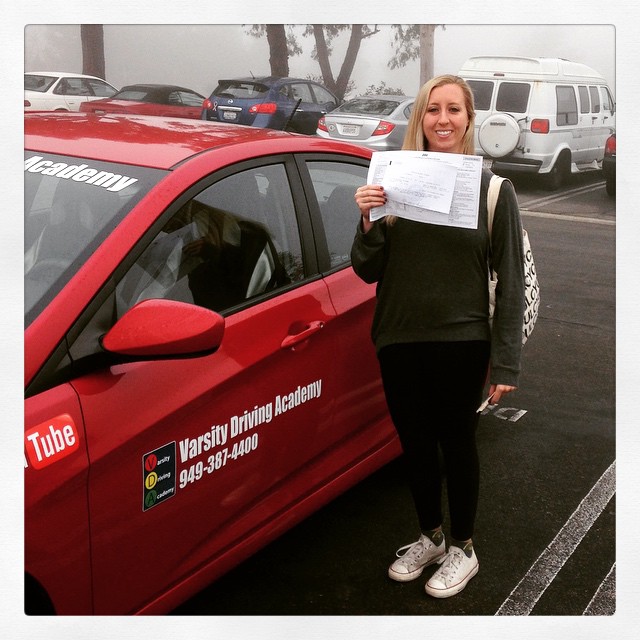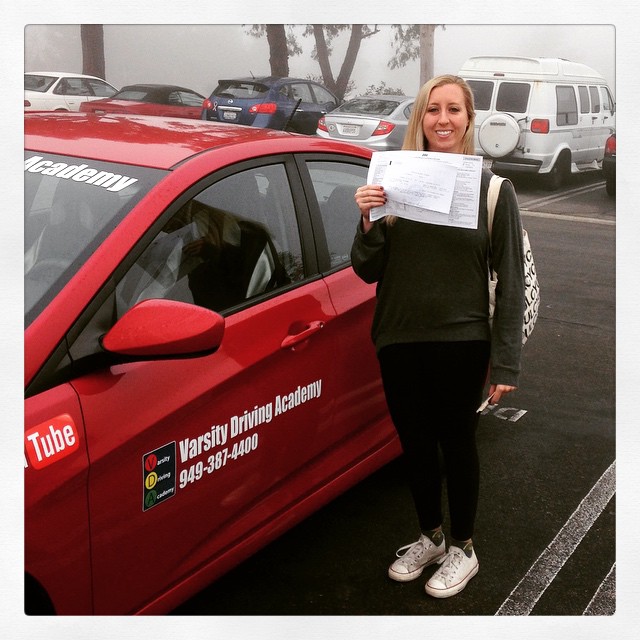 Allison is now the proud owner of a California Drivers License. Congrats Allison!
Helpful links