Varsity Driving Academy is proud to service the city of Rancho Santa Margarita. As Rancho Santa Margarita's #1 choice for driving schools, we have to live up to that name. Certified instructors and safe driving environments is how we got there. We will continue to practice these teachings and pass them on to each and every one of our students. 
Welcome to Varsity Driving Academy Rancho Santa Margarita! In Rancho Santa Margarita we offer free pick-up and drop-off for behind the wheel training sessions. Allow us to pick you up before the training sessions and drop you off afterwards. This will provide you with a worry free session and a clear mind to learn.

Services
Online School
Our online tutoring package will give you intuitive curriculum at your fingertips, whenever and wherever you'd like! Enlist in the 30 hour course and complete it, and you will qualify to take the DMV's written test for a permit.
Classroom Learning
Classrooms can often be the best place for you to learn amongst peers and with a mentor, and our Classroom course does just that! A DMV certified instructor will guide you along all of the needed studies to obtain a comprehensive knowledge of Driving safely and correctly. Classes start in July and August only, and there are 3 in total to attend in order to meet the requirements.
Behind-The-Wheel Training
For three, 2-hour long practices, you can have a teacher go with you and guide your driving techniques in the right direction! Parents will also be kept up-to-date on your advancement too, so you can receive the most value for your time.
DMV Package
For those of you who want to ease the burden of setting up your DMV assignments, the DMV package will alleviate you. In addition to setting up your written and behind the wheel dates, we will even allow access to our vehicles for the test, and pick you up after it's over. If you have any questions about this or any of our services, please contact us and we'll get back to you! (949)-387-4400.
Varsity Driving Academy Instructor Spotlight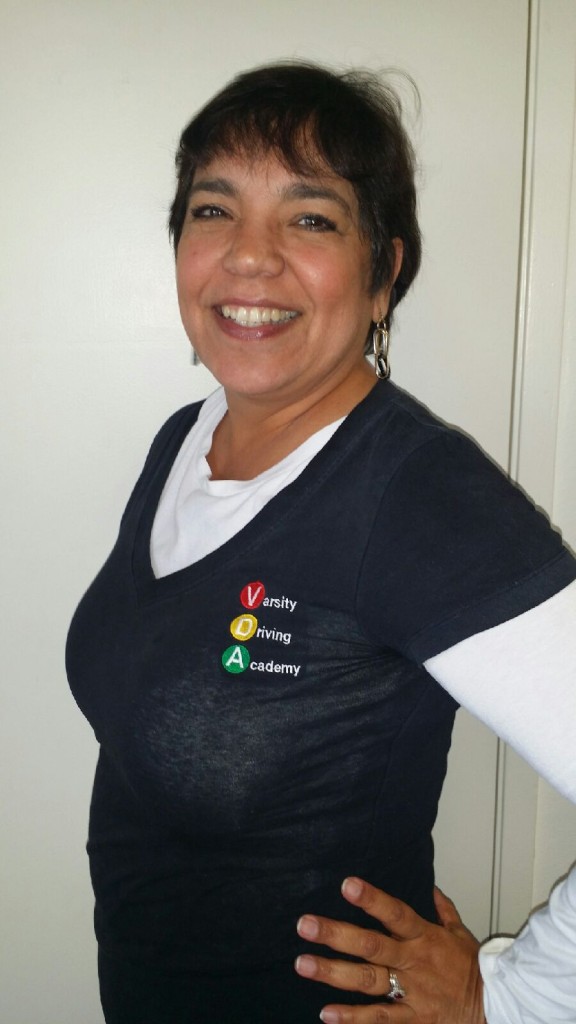 Veronica Perez is passionate about teaching new drivers to drive safe and defensively on the California roads. She enjoys being an instructor and has driven over 40 years and still enjoys driving.
Helpful links