The DMV is a place where people go when dealing with anything that has to do with vehicles and vessels. In fact, it is the only place in Laguna Beach where you can get a license. However, you must complete a few steps before you can get your license. The fist step for teens is to take a driving course. You will then be able to register for classes with the best driving school in Laguna Beach, Varsity Driving Academy. In fact, Varsity Driving Academy can help you with the best Laguna Beach behind the wheel training.
Laguna Beach behind the wheel training is important for all inexperienced drivers as it is the perfect time to learn defensive driving and more.
Laguna Beach Behind the Wheel Training | DMV Requirements
The DMV has many requirements that must be met before you can drive off into the sunset. One of those requirements is to complete Laguna Beach behind the wheel training if you live in Laguna Beach. However, there are also minor requirements that must be met to ensure that you pass this step. You can think of them as a subset of requirements. Varsity Driving Academy is the best drivers ed in Laguna Beach and can help you meet all these requirements. You must complete the following:
6 hours of training with a certified trainer
50 hours of practice at home with a licensed driver over the age of 25
10 hours must be at night
The Sessions
The best Laguna Beach behind the wheel training will cover many different aspects of driving. In fact, this is your chance to practice everything you have learned in class. The goal is to use this time to find any bad habits that might be forming and replace them with safe driving habits. You can also learn defensive driving with Varsity Driving Academy. However, each session will be a private lesson, just you and the certified trainer in the car. The privacy allows students to ask questions without fear of judgement or comments. Each session will be 2 hours long so there will be a total of 3 sessions.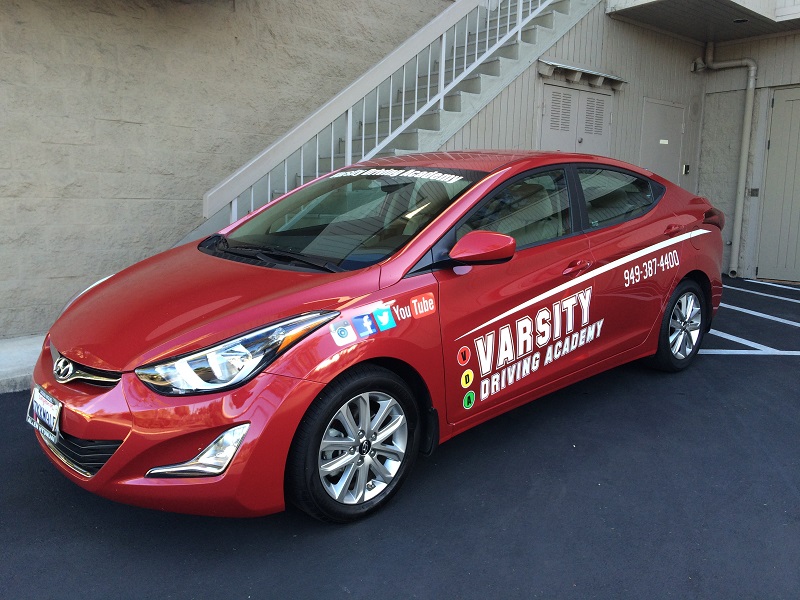 Why Choose Varsity Driving Academy
Varsity Driving Academy is the best Laguna Beach driving school. In fact, you can discover reviews on Yelp or anywhere to find out how many people have loved Varsity Driving Academy. However, the important thing is that you learn how to drive safely and defensively. Some driving schools charge extra for defensive driving. However, Varsity Driving Academy uses defensive driving techniques as the base of learning how to drive. The goal is to keep you safe with us and in the future when you get behind the wheel. Why would anyone want to make that cost more?
Varsity Driving Academy Pick-Up and Drop-Off Service
There are many different services you can take advantage of to make learning how to drive easier. One of those services is the free pick-up and drop-off services. You can get picked up by a certified trainer in a training vehicle from home, work or even school. The session will begin immediately, and you will get dropped off at home when it is all done. This service is available to every student at Varsity Driving Academy and at no extra cost. In fact, this service is meant to help make scheduling sessions even easier. There are even more services that you can choose from that will help with Laguna Beach behind the wheel training and more.
Laguna Beach Driving School Popular Products
Helpful Links
Orange County Driving School Services