Varsity Driving Academy is proud to offer services to the city of Lake Elsinore. Varsity Driving Academy was born out of a desire to provide a driving school that would not only model and teach safe defensive driving techniques to its students, but that would also be a place where parents feel comfortable sending their kids to learn, and where teens feel comfortable with their instructors.
Welcome to Varsity Driving Academy Lake Elsinore!
We offer free pick-up and drop-off for behind the wheel training sessions for students of Lake Elsinore. Never worry about getting to our training session. Just let us know where to pick you up, and we'll be there.
Services
Online School
When you're ready to start the process toward getting your California driver's license, your first step is to sign up for our online course. Our 30-hour course is DMV-approved and will lay a solid foundation for your driver's training. We teach the rules of the road, traffic laws and everything else you need to learn in order to pass the DMV written test with ease. We also add defensive driving to our training that way students have the best chance of staying safe while on the road. Register for our online course today!You can begin immediately, work at your own speed.
Behind-The-Wheel Training
Once you've passed the DMV written test and secured your learner's permit it's time to move on to the next step in the process: behind-the-wheel training! First things first: You must complete your initial 2-hour driving lesson with a certified instructor, who will then validate your learner's permit. This allows you to begin your 50 hours of practice driving time with a licensed adult over 25 (ten of those 50 hours must be at night).
DMV Package
After you've completed your behind-the-wheel training and practice time, you are ready for your final DMV driving test. You may be feeling nervous and anxious during this time, so take advantage of our DMV Package. We'll make your DMV appointment for you, pick you up and take you to your test, AND you'll use our car for your final road test! A final note… We want parents and students to know that we go above and beyond to ensure each student feels safe and comfortable. To that end, we provide highly screened, certified instructors who are professional, patient, and encouraging, providing an optimal environment for learning how to drive. We continually assess each student's progress to determine the best course of action for his or her driving lessons, as our primary goal is to create safety-conscious, skilled, conscientious drivers in Orange County. Contact us today with any questions you may have, or to get started on your driver's education! (951) 357-0044.
Varsity Driving Academy Graduate Spotlight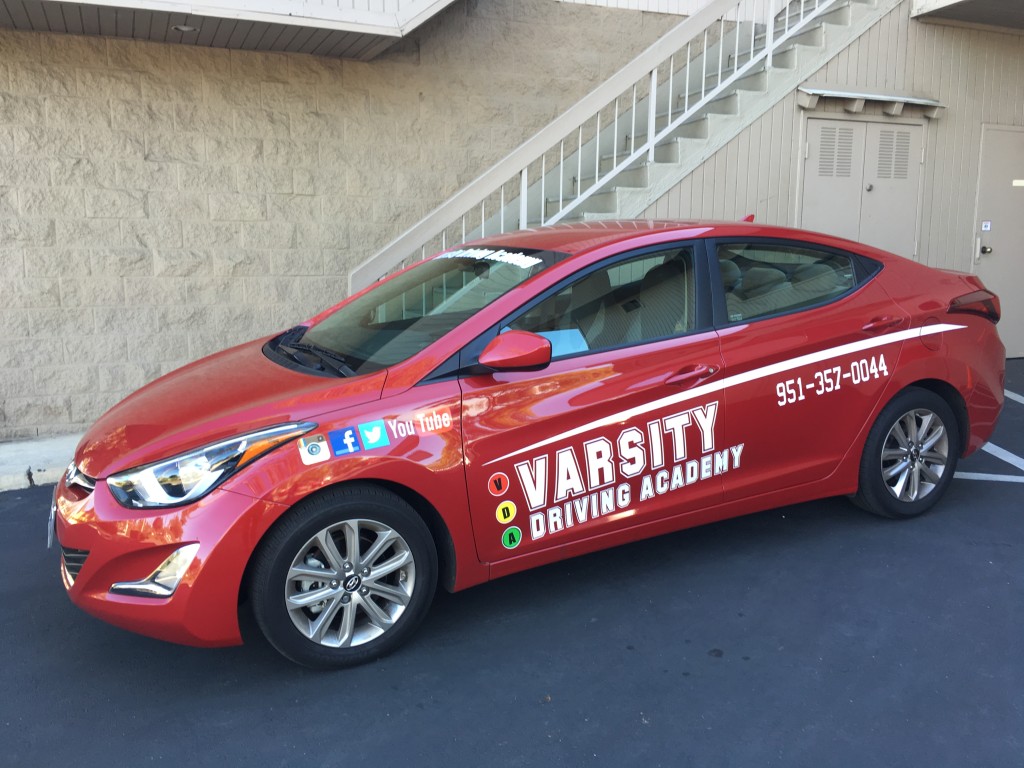 We can't wait to take your picture with your license in front of our car. Above is one of our safest cars available, like the rest, the car is inspected and approved by the DMV for it's safety.
Helpful links