Varsity Driving Academy is determined to teach safe driving to students of Newport Coast. We take our knowledge and pass it on to every student to ensure they remain safe and succeed in receiving their license. Check out our services below and then sign up using the links below.
Welcome to Varsity Driving Academy Newport Coast!
In Newport Coast we offer free pick-up and drop-off for behind the wheel training sessions. This service is available to all of our students during our training sessions. For more options, check below.

Services
 Online School
Our online class is a breeze! Once you register online and complete your 30 hour course, you'll be ready to take the DMV written test and get a permit. You can do all of this at your own leisure, anywhere you have internet access!
Classroom Learning
Sometimes, having an in person experience can help students fully grasp the essentials of driving. The classroom driver's education experience offers 3 classes, in July and August only. DMV certified teachers will be catering to all of your questions and concerns in person! This can allow you to fully prepare for your future driving.
Behind-The-Wheel Training
Going behind the wheel entails three two-hour long classes with a private instructor. They will analyze your strengths and weakness and help you fully ready yourself for your final test. Parents of students will have correspondence with the instructors as well, to ensure optimal teaching!
DMV Package
This unique deal offers a special experience for you! We will call and set up any DMV appointments for you, let you use our vehicles for the exam, and in addition pick you up from your behind the wheel test! This can help you relax and be fully prepared to ace your exam! Questions? Contact us directly and we'll help you out (949)-387-4400
Varsity Driving Academy Graduate Spotlight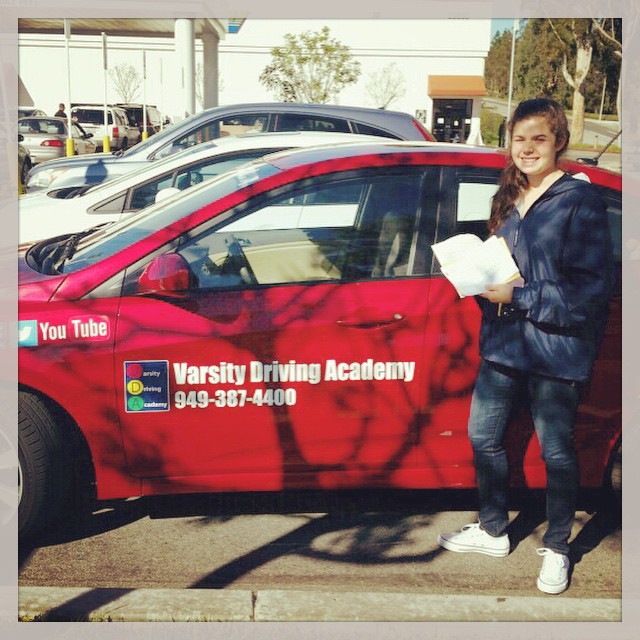 Graduating from Varsity Driving Academy means getting your license. We ensure that every student knows how to drive safely, and how to pass their license test.
Helpful links