Parents choose to send students to Sky Mountain Charter School. This choice is an important one as it could alter the future success of each student. That is the thing about charter schools. People choose to use a charter school for education. Whereas most public school students go to the school that serves the area they live in. The same can absolutely be said about Varsity Driving Academy. In fact, Sky Mountain Charter School driver's ed is often Varsity Driving Academy.
Welcome to Varsity Driving Academy, your #1 rated Sky Mountain Charter School Driver's Ed. We focus on safe and defensive driving practices.
Students at Sky Mountain Charter School can use our free pick-up and drop off service to take out some of the stress from learning how to drive.
Services
Online School
High school is part education, part social skill-building, and mostly college prep. However, most students just don't have the time to add learning how to drive to their lists of things to do. That is where Varsity Driving Academy can help. Varsity Driving Academy gives students the flexibility to add learning how to drive wherever it fits in their schedule. Students can register for online classes and then learn the basics of driving from anywhere they have an internet connection. Students can leave and come back when they have time or spend an entire day getting through as much as possible. All progress is saved and students will start off where they left off before each time they sign in to class. It's just that easy with Varsity Driving Academy.
Behind The Wheel Training
Behind the wheel training can't be as flexible as online learning. However, that doesn't mean there can't be any flexibility. Sky Mountain Charter School Driver's Ed offers a couple of different ways to be flexible. For example, you set your schedule for when each lesson takes place. That means you have the ability to schedule them for when you have free time instead of moving other things around. Another service is the free pick up and drop off service. A trainer will drive to you to pick you up from school, practice, home, work, wherever you may be nearby. You will be dropped off at home after each lesson. This is flexibility at its finest.
DMV Package
Varsity Driving Academy goes above and beyond for all students. The DMV Package is a perfect example of how this driving school goes above and beyond for students. Students who choose our DMV package get the basics like online learning, behind the wheel training, access to our pick-up and drop-off services. But with the DMV Package, we also act as a concierge with the DMV. We will call and schedule appointments on behalf of the student with the DMV. When it's time to take the final test we will pick students up and take them to the DMV. Students will also have access to our safe vehicles for the driving test. Please contact us for more information regarding our utilities at (949) 387-4400.
VARSITY DRIVING ACADEMY VEHICLE SPOTLIGHT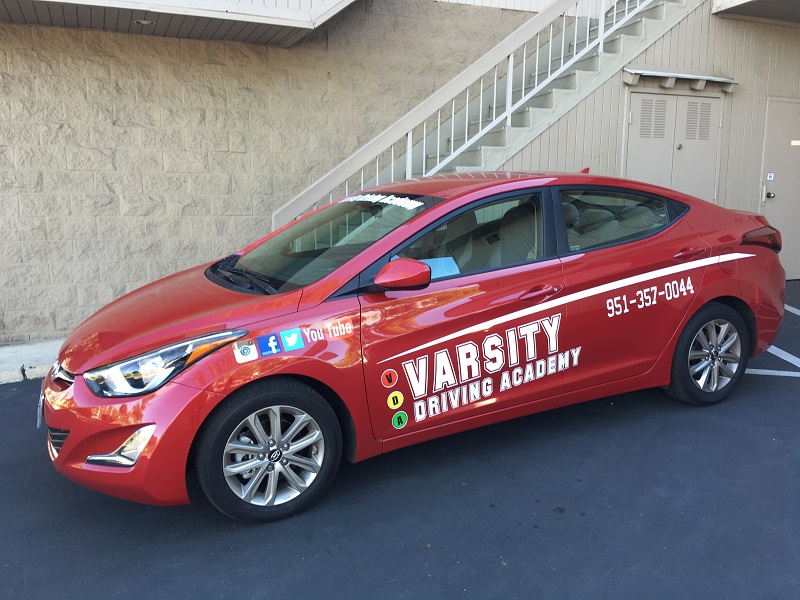 All of our vehicles are hand-picked to ensure students' safety while training. We get the vehicles inspected regularly and keep them maintained.
Helpful links