Looking for the top-rated driving education school in Irvine? Our focus is to set you up for success and get you on the road as soon as possible. Did you know that you can start Teen Drivers Education as soon as 15 years and 0 months old?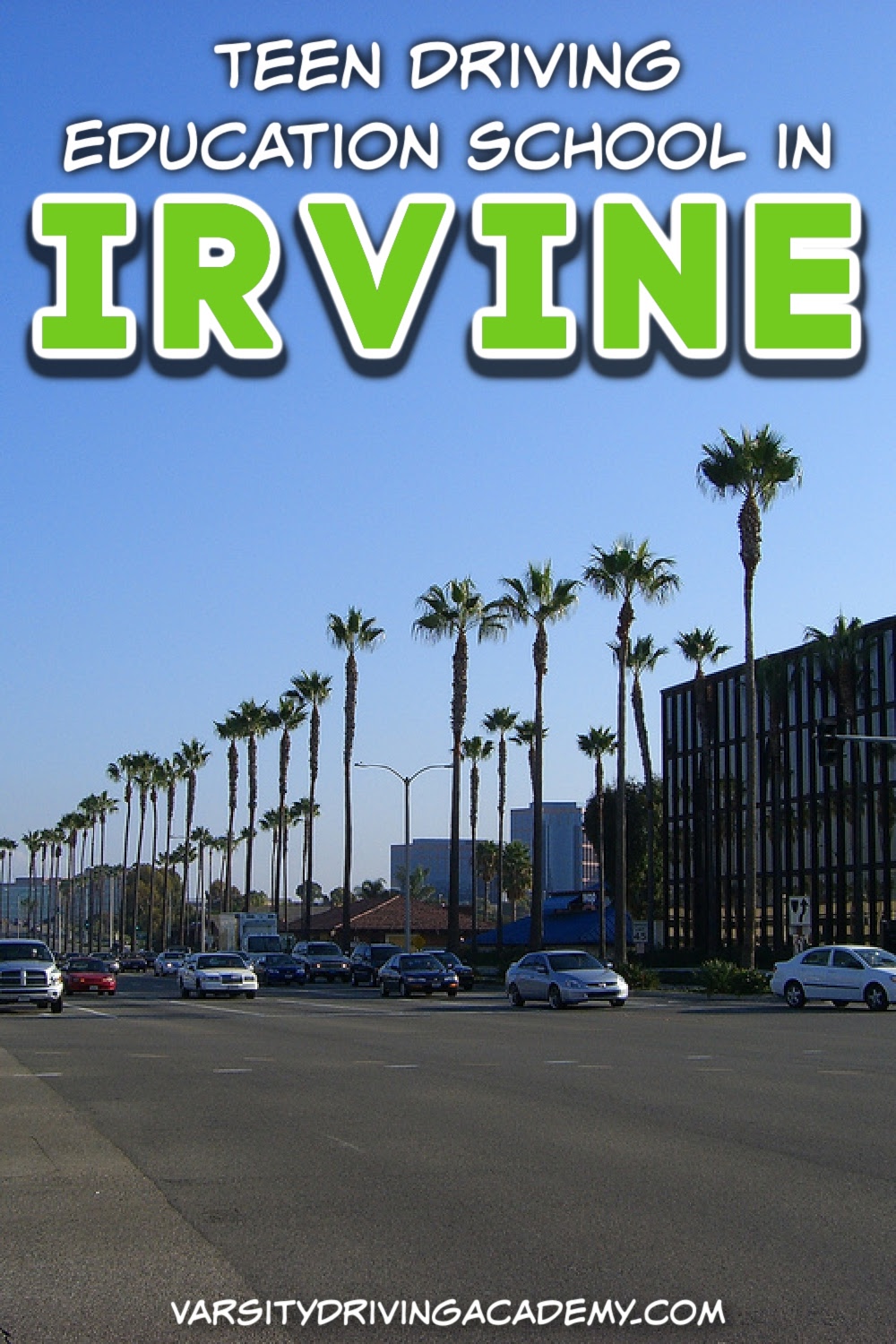 Start now with Varsity Driving Academy's Teen Driver's Training by signing up for our DMV Approved Drivers Education Course and you can get your permit the day you turn 15 ½.  Then, sign up for our Behind the Wheel Training Course, so you can get your license at 16 years old!
We have provided top-notch training to thousands of teen drivers and are rated #1 on Google and Yelp. Follow the two steps below and learn how to drive with us today!
Step 1: Enroll in a Varsity Driving Academy DMV Approved Driving Education Course.
Receive comprehensive, DMV approved training on the following subjects:
1) Introduction to the motor vehicle
2) Signs, signals and highway markings
3) Driving is your responsibility
4) The Driver
5) Natural forces affecting the driver
6) Defensive driving
7) Accidents, Causation and Avoidance
8) Use and maintenance of required safety equipment
9) Established Speed Laws
10) Interaction at intersections
11) Passing
12) Backing up safely
13) Hazardous conditions
14) Demands of city driving
15) Demands of freeway driving
16) Demands of driving on open roadways
17) Driver responsibility
18) Effects of alcohol and drugs
19) Licensing control measures
20) Acquiring a California drivers license
21) Testing for and the use of the California Drivers License
22) Final Test
At Varsity Driving Academy, we believe in offering the best and most convenient courses around.
Each of our courses are comprehensive and can be completed within days. Our classes will adequately prepare you to take and pass the written version of the DMV Test and will provide you with a certificate of completion to show the DMV. Whether you prefer learning online or in the traditional classroom environment, we have something for you!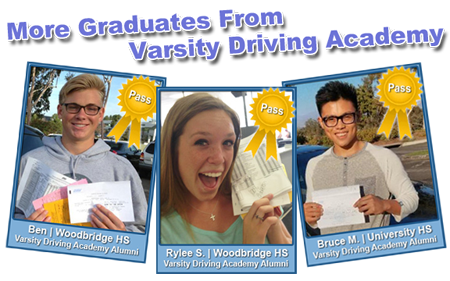 Online Drivers Education- 24/7 access to online course material.
30 hours of instructional material. The course is divided into 22 chapters with video instruction and interaction. Each chapter is followed by a short quiz that will test your knowledge before moving on to the next chapter.
Classroom Drivers Education- Available during July and August
Total of 1500 minutes of certified instruction. Class is completed in four consecutive days Monday- Thursday from 9-4pm including two 15 minute breaks and a 30 minute lunch.
Step 2: Enroll in a Varsity Driving Academy DMV Approved Teen Behind the Wheel Training Course
At Varsity Driving Academy, you can enjoy learning how to drive at your own pace. Each lesson is 2 hours long and can be completed at your own convenience. Our instructors have all been extensively trained and DMV certified and will pick you up and drop you off wherever you'd like (at school, work, or home).
Varsity Driving Academy will never have hidden or surprise charges. Everything is included in the package price.
Our Training Vehicles are Favored by Student Drivers
Our vehicles are not marked with training placards since we prefer for the driver to have a "real life experience"
Fully equipped with dual brake controls
Fully insured and inspected
For More Information Regarding How to Obtain your Permit and License and to Schedule your DMV Test, Visit the DMV Website at the Following Links: