John F. Kennedy High School Driver's Ed
Varsity Driving Academy is where students from John F. Kennedy High School get top rated driving lessons. We aim to not only teach the basics, we go further to teach the ways of defensive driving. Find out more about our services below and get a feeling for the lessons you're about to receive.
Welcome to Varsity Driving Academy John F. Kennedy High School Driving School!
Joh F. Kennedy High School students have the ability to take advantage of our free pick-up and drop-off service for behind the wheel training sessions. This way you never need to worry about how you will get to and from our sessions.

Services
Online Learning
Students live a busy lifestyle and that means that they don't really have time to head to an extra class. That's why we offer online classes so that students can enjoy a dash of freedom in their driving lessons recipes. All a student needs to do is to sign up, create a log-in and get started. All of the progress students make can be saved and left behind while you do other things. When you're ready to come back, you can log back in and start from where you left off. This is our way of making things easier since you don't have to find a way to class; you can do it from home. It's a great way to keep your priorities in line and never miss an appointment due to driving school. Our online course includes the same great curriculum that we would otherwise cover in a classroom, and we also have certified instructors ready to answer any questions; they are just a phone call away.
Behind-The-Wheel Training
Learning the basics and getting your permit is only the first step, the behind the wheel training is the most important part of the course. We want our behind the wheel training sessions to be the safest as well as top rated. In an effort to keep that reputation we use only certified and inspected vehicles. To add to that level of safety, our trainers are certified. That means they know how to keep you safe while training and answer any questions you may have about driving. We like to have one on one time with our students while training. That allows us to focus on your strengths and weaknesses, tune those skills and give you the confidence to ask questions freely.
DMV Package
We're proud of the fact that we are top rated in many different cities throughout Southern California but that's just not enough for us. We decided to take things even further by adding a package that caters to our students called the DMV Package. Our DMV package includes services that take the experience above and beyond. We like to think of this package as the concierge package because we will call the DMV and make appointments for you. That includes the final test with the DMV to get your license. We will also pick you up and take you to that test, and we will even hand over the keys to our car for the test. There are any other packages we offer, but we like to spotlight this one as it is the best way for us to be with you every step of the process. Check out our contact us page to get the answers to the questions you may have at (949)387-4400.
Varsity Driving Academy Vehicle Spotlight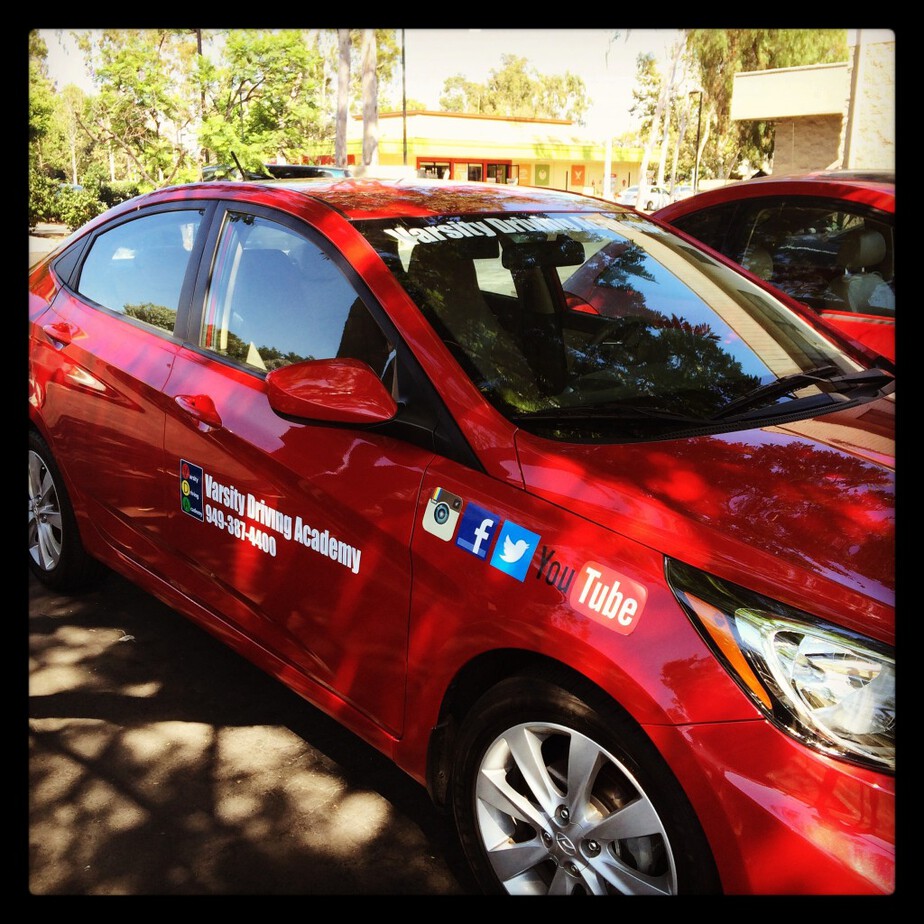 Our vehicles are all top rated safety vehicles. They're inspected regularly and all have the required maintenance to make them a valuable tool to us and our students.
Helpful Links