Put Safety First During Child Passenger Safety Week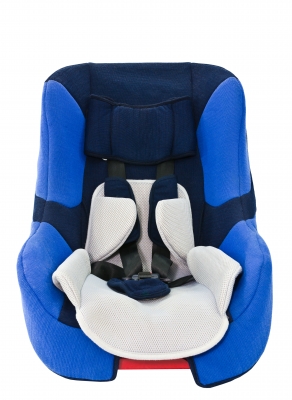 September 14-20 is National Child Passenger Safety Week.
The following is a message from the Office of Traffic Safety:
Are you Putting Your Child in Danger?
Child Passenger Safety Week (Sept. 14-20) Urges Parents to Put Safety First 
No matter how busy you may be, or how short your commute, nothing is more important than taking a few extra minutes to ensure that your child is properly secured in the correct car restraint. That's the goal of National Child Passenger Safety Week, which runs from Sept. 14-20. During this week, many communities will have Certified Child Passenger Safety Technicians on-hand to provide free education on how to properly install and use car seats, booster seats, and seat belts for children.
According to the National Highway Traffic Safety Administration (NHTSA), among child vehicle passengers under the age of five, an estimated 284 lives were saved by child restraints in 2012. An additional 58 children could have survived if car seats had been used 100 percent of the time.
To keep your smallest passengers safe, the California Office of Traffic Safety (OTS) offers the following car seat tips:
Always read the manufacturer's instructions so you know how your car seat works.
Pay close attention to guidelines on how to adjust your car seat's harness for proper fit.
Car seats should always be replaced following a moderate or severe crash to ensure the highest level of crash protection.
 If you are considering a second-hand car seat, make sure that the seat has its instruction book and check its labels for a date of manufacture and model number. You need this information to find out if there is a recall on the car seat or if the seat is too old.
Parents and caregivers are encouraged to visit a local car seat fitting location in their community during this week and at any time throughout the year. Fitting locations and more information on proper, safe car seat installation can be found by clicking the car seat section at www.safercar.gov.
For more information on other traffic safety related efforts, visit the California Office of Traffic Safety (OTS) at www.ots.ca.gov or follow OTS on Twitter, @OTS_CA.
[hr]
Child car seats were starting to be manufactured in the 1930s; however, they were not for the purpose of child safety, but rather to bring the child up to a height that the driving parent could see them. It wasn't until 1962 that car seats were invented for the purpose of protecting a child.
California Laws for Child Car Seats
The following laws went into effect on January 1, 2012:
Children under the age of 8 must be secured in a car seat or booster seat in the back seat.
Children under the age of 8 who are 4′ 9″ or taller may be secured by a safety belt in the back seat.
Children who are 8 years and over shall be properly secured in an appropriate child passenger restraint system or safety belt. (source: California Highway Patrol)
Don't think booster seats are that effective? Think again. Studies have shown them to reduce the risk of serious injury by 45% in children 4-8 years old. (source: CDC.gov)
Buckle all children ages 12 and under in the back seat. Airbags can kill young children riding in the front seat. Never place a rear-facing car seat in front of an airbag.
Buckle children in the middle of the back seat when possible, because it is the safest spot in the vehicle.
Buckle children in car seats, booster seats, or seat belts on every trip, no matter how short.
Set a good example by always using your seat belt.
Laws protecting children are often very stringent – as they should be, because children are a vulnerable group of society. They depend upon responsible adults to do the right things to keep them healthy, safe and protected from harm.
Please keep your children safe, invite other parents to do the same, and immediately report unrestrained children by calling 1-800-TELLCHP.