Student Safety Is Our Top Priority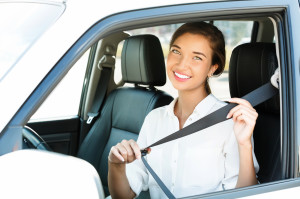 At Varsity Driving Academy student safety is our biggest concern and highest priority. We have many years of experience training teens, adults and international students on how to drive safely, and we are equipped to handle the unique challenges of behind-the-wheel training.  Here are some of our top safety protocols and precautions that help keep everyone safe.
Our Vehicles
Our training vehicles are fully insured, and undergo a rigorous inspection that is submitted to the DMV.  Each vehicle is checked regularly to ensure all brakes (fluid, pads, lines) and oil is full and in perfect working order. As an additional enhancement all of our training vehicles are equipped with dual brake controls and a second rearview mirror to provide a less stressful, and safer behind-the-wheel experience for new drivers.
All of our vehicles are new.  We train in 2012 and 2013 four-door Hyundai Accents. Click here to view the safety rating for these vehicles.
Vehicle Safety Features:
Driver Air Bag
Passenger Air Bag
Side Head Air Bag
Rear Head Air Bag
Side Air Bag
4-Wheel ABS
Front Disc/Rear Drum Brakes
Brake Assist
Electronic Stability Control
Child Safety Locks
Traction Control
Second dual brake controls
Second rearview mirror
Our Instructors
Varsity Driving Academy instructors are fully licensed by the State of California with extensive behind-the-wheel experience. We pride ourselves on providing a patient and supportive style when working with both teens and adults. Each instructor is mandated to have and pass a livescan (national fingerprint database), an independently conducted background check (Varsialso) before they are hired by us and be approved by the DMV for having a clean driving record.  Finally, we have an expectation that each of our instructors always act in a professional and courteous manner when giving instruction.
Our Behind-The-Wheel Safety
We have certain safety protocols in place to ensure full attention and focus is directed on driving:
1. No cell phone use.  Once a student sits in the driver's seat of the instruction vehicle, their cell phone must be turned off.
2. No radio or music.  Our instructors prohibit the use of the radio or any audio device.
3. No additional students.  Training lessons are limited to one student at a time to reduce distraction and increase focus and concentration.
Our Insurance
As mentioned above, all of our cars are fully insured, and every student of Varsity Driving Academy is covered under our insurance policy during training.
If you have any questions about our safety protocols or precautions, please don't hesitate to call us.  We know learning to drive, or allowing your child to learn how to drive, can be stressful.  We are available to answer all your questions and dissuade your fears.
Have questions?  Please give us a call at 949.387.4400