10 Restaurants to Enjoy Thanksgiving Dinner in Orange County
There are many different ways to celebrate Thanksgiving. Some people cook an entire family meal in their own home for dozens of family members. Other people prefer to keep it more close-knit and have their household celebrate together. Then there are the people who know that slaving away in the kitchen is not their idea of a holiday. There is nothing wrong with celebrating the way you like, as there are no requirements to celebrating Thanksgiving. With so many different restaurants to enjoy Thanksgiving dinner in Orange County, there's no reason why you shouldn't give them a try when you don't want to cook.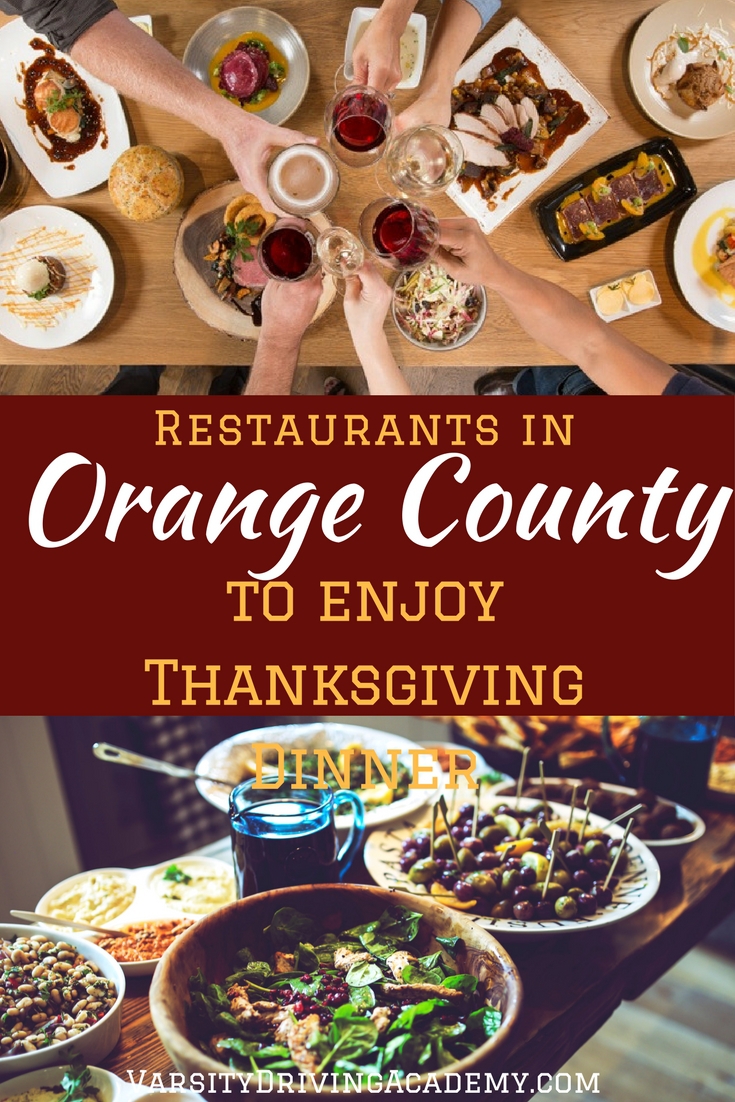 Head to one of many different restaurants to enjoy Thanksgiving dinner in Orange County so you don't need to spend all day in the kitchen.
Monarch Beach Resort | Dana Point, California
Thanksgiving at the Monarch Beach Resort is more than just a meal. The resort will be having family activities, football viewing areas, and you can even watch the traditional parade. There are two options for when it's time to eat, the Stonehill Tavern and Aveo Table+Bar. The Stonehill Tavern will serve a traditional dinner with all the favorites for $135 per person. Aveo Table+Bar will have a brunch buffet with traditional Thanksgiving foods for $125 per adult and $35 per child.
Andrea at Pelican Hill | Newport Coast, California
Traditional meals will be served at Andrea on Thanksgiving from 4-10 pm. But traditional isn't all that will be on the menu. For $140 per adult, $190 with a wine pairing, you can start a new tradition. Chilean sea bass and prime tenderloin will also be served with a fantastic view of the Pacific ocean. When you've finished with dinner, try some amazing pumpkin pie ice cream on a graham sable.
Splashes at Surf and Sand Resort | Laguna Beach, California
If you are headed to restaurants to enjoy Thanksgiving dinner in Orange County earlier than most, Splashes is where you'll want to go. The four-course prix fixe menu has all of the traditional Thanksgiving options for only $80 per person during the lunch hour and $95 during dinner.
The Ranch Restaurant and Saloon | Anaheim, California
Another great choice is The Ranch in Anaheim. Here, you'll find another prix fixe, four-course meal with traditional options. If you want to venture away from the usual, you can do that as well with options like pork belly or pheasant pie. Here, the event will be $85 per person and starts at 2 pm until 7 pm.
Vue at Laguna Cliffs Marriott Resort & Spa | Dana Point, California
Laguna Cliffs is a fantastic option for Thanksgiving dinner in Orange County. This special event will include ocean views, traditional meals, and live music. Instead of having a prix fixe menu, there will be a champagne brunch from 1:30 pm until 6 pm. Adults will cost $99 and children will be $40.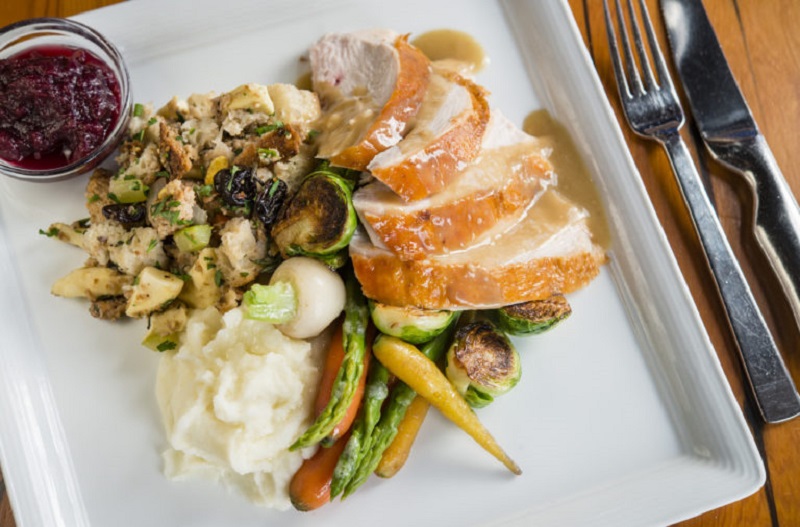 Sapphire Laguna | Laguna Beach, California
Thanksgiving is taking a real turn from the traditional at Sapphire Laguna. Herb Roasted Turkey is the star of the show but curry laksa barramundi and pan-seared beef tenderloin will also be on the menu. So much more will make your mouth water during this holiday meal in Orange County.
The Winery in Newport Beach | Newport Beach, California
The whole family is invited to enjoy Thanksgiving meals inside the Winery in Newport Beach. There will be an adult menu with 5 different starters, 5 main course options and three desserts to choose from. But children are welcome as well and there's a special menu just for children. This event will be $59.95 per person with kids under 12 years old priced at $24.95.
Tangata Restaurant at Bowers Museum | Santa Ana, California
Heading to the museum for Thanksgiving dinner just sounds like a great way to spend the holiday. Enjoy a special buffet with turkey, pumpkin soup, brioche and so much more. One of the most affordable restaurants to enjoy Thanksgiving dinner in Orange County is at Tangata. Adults will be $55 and children will be $27.
Orange Hill Restaurant | Orange, California
Orange Hill Restaurant is setting out the Thanksgiving staples during their brunch buffet. However, Orange Hill will not be ditching the beloved breakfast options that many people enjoy as well. The brunch starts at 10 am and ends at 6 pm with the price being $65 for adults and $30 for children.
Silver Trumpet Restaurant | Costa Mesa, California
Silver Trumpet is doing something very different from the others for Thanksgiving. From 11 am until 3:30 pm, people may come and enjoy a special Thanksgiving brunch buffet. But then, from 5 to 10 pm, Silver Trumpet will be switching things up to a prix fixe menu for Thanksgiving dinner. Both a brunch buffet and a prix fixe menu gives us a wide variety of options for Thanksgiving.