10 Places to Visit in San Diego on a Day Trip
People from all over the world come to visit Orange County for its many attractions and things to do. But when you live in Orange County, most of the attractions can get old. Where do people who live in Orange County go to become the tourist? San Diego. Taking a day trip to San Diego is a great way to get away from the tourism in Orange County and become a tourist somewhere nearby. There are many places to visit in San Diego that can fill an entire day or even an entire weekend.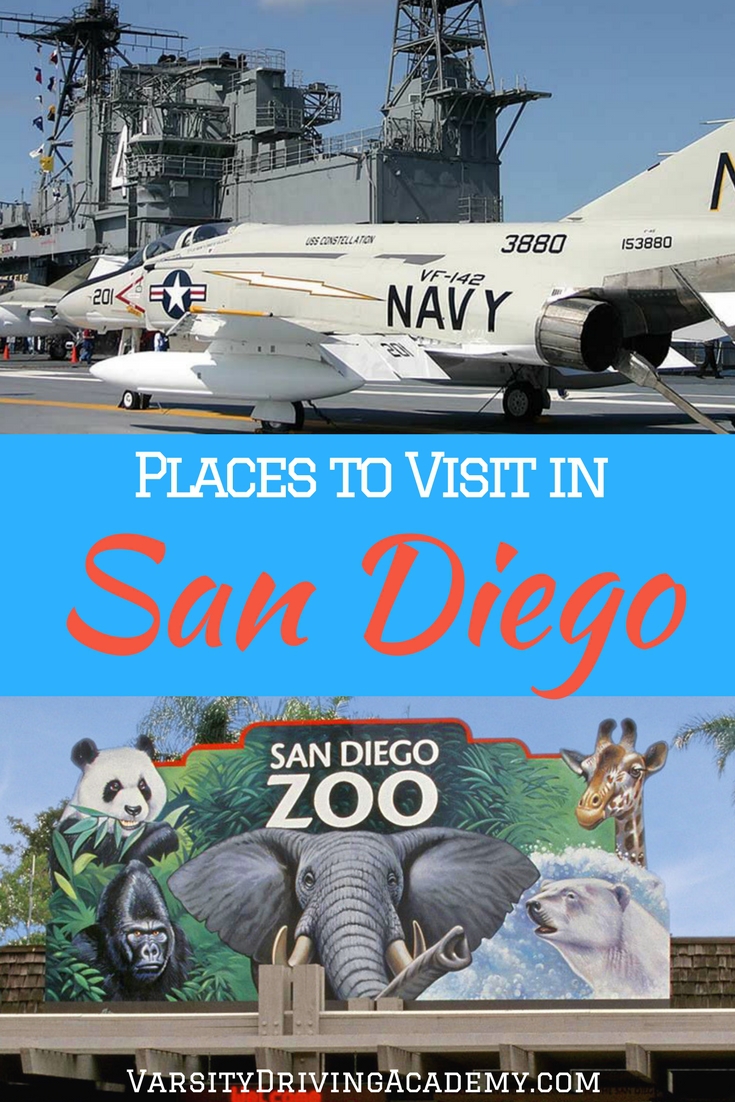 The best places to visit in San Diego make it a natural must-see for those who not only live nearby but for people from all over the world.
San Diego Zoo and Safari Park
There are plenty of zoos all over the country but there is only one San Diego Zoo. Over 100 acres make the San Diego Zoo not only the best place to visit in San Diego, it is also the biggest zoo in the country. The collection of animals is filled with common, zoo animals but also rare and endangered species. The Safari Park is a short, half hour drive north in Escondido and offers a more up close and exciting adventure with the animals.
Balboa Park
As far as parks go, Balboa Park is one of the greats. This park is so big that the countries biggest zoo takes up only part of the actual park grounds. The rest of the park grounds is filled with trails, a botanical garden, Spanish-Renaissance architecture and so much more. There are also activities and special events that are always happening at the park like an art show or a puppet theater show. The San Diego Art Museum is another way to enjoy the park and so is the San Diego Hall of Champions.
Torrey Pines State Reserve
The Torrey Pines State Reserve is where you will find San Diego in a constant state of history. The oceanfront park is filled with nature that has not been touched by mankind. The idea of the reserve is to reserve a piece of San Diego's history, in a place where everyone can enjoy it. Hike along trails and enjoy natural Torrey Pine trees, salt marshes, and an amazing view of the ocean.
USS Midway Museum
If you didn't know already, San Diego is a military town, through and through. Marines train here, military bases are housed here and the USS Midway Museum is a tribute to the armed forces. The USS Midway is an American aircraft carrier from the 20th century that hosted 225,000 sailors. Now, the USS Midway hosts over 60 exhibits for civilians to explore and 29 restored aircraft to stand in awe of on any given day.
Gaslamp Quarter
There are 16 blocks that are peppered with Victorian-style buildings that have been turned into shops, restaurants, galleries, bars, clubs, breweries and just about anything else you can want. The Gaslamp Quarter has become one of the most popular attractions in San Diego. Not only do tourists enjoy getting a taste of Southern California living, Locals love the many different shopping opportunities clustered together.
Coronado Beach
When people think of a California beach, they think about busy boardwalks, carnival rides, games, and food. Coronado Beach offers a different view of California, a relaxing view. The views are stunning, the sands are warm, and there is an opportunity to enjoy the south side of California without all of the hustle and bustle.
SeaWorld San Diego
SeaWorld is an opportunity for people to get up close and personal with animals from the ocean that's just a short drive away. Not only are animals present but rides like the Manta Ray roller coaster or the Shipwreck Rapids can help fill your day with fun and excitement.
Mission Beach and Pacific Beach
Unlike Coronado Beach, Mission Beach and Pacific Beach are both filled with attractions and amenities that make them very popular destinations. Mission Beach and Pacific Beach make up one long shoreline in San Diego. There is a nearby boardwalk, amazing surf, and sports equipment rental shops that make for plenty of things to do and places to visit in San Diego all in one location.
La Jolla Cove
If getting out and under the water is what you're looking for, La Jolla Cove is where you will want to visit in San Diego. The beach isn't popular for its pristine sand or plentiful space, instead, it's what's underwater that is the biggest draw. As an ecologically protected area, the cove is the perfect place for snorkeling and to spot sea lions hanging out.
La Jolla Shores
La Jolla Shores is just across the water from La Jolla Cove but that is about as far as commonalities go. La Jolla Shores is an active beach-going spot with plenty of surf, sand, and access to ocean waters. Nearby is the La Jolla Underwater Park Ecological Reserve. The reserve is home to two artificial reefs that attract marine life and make them easy to explore.